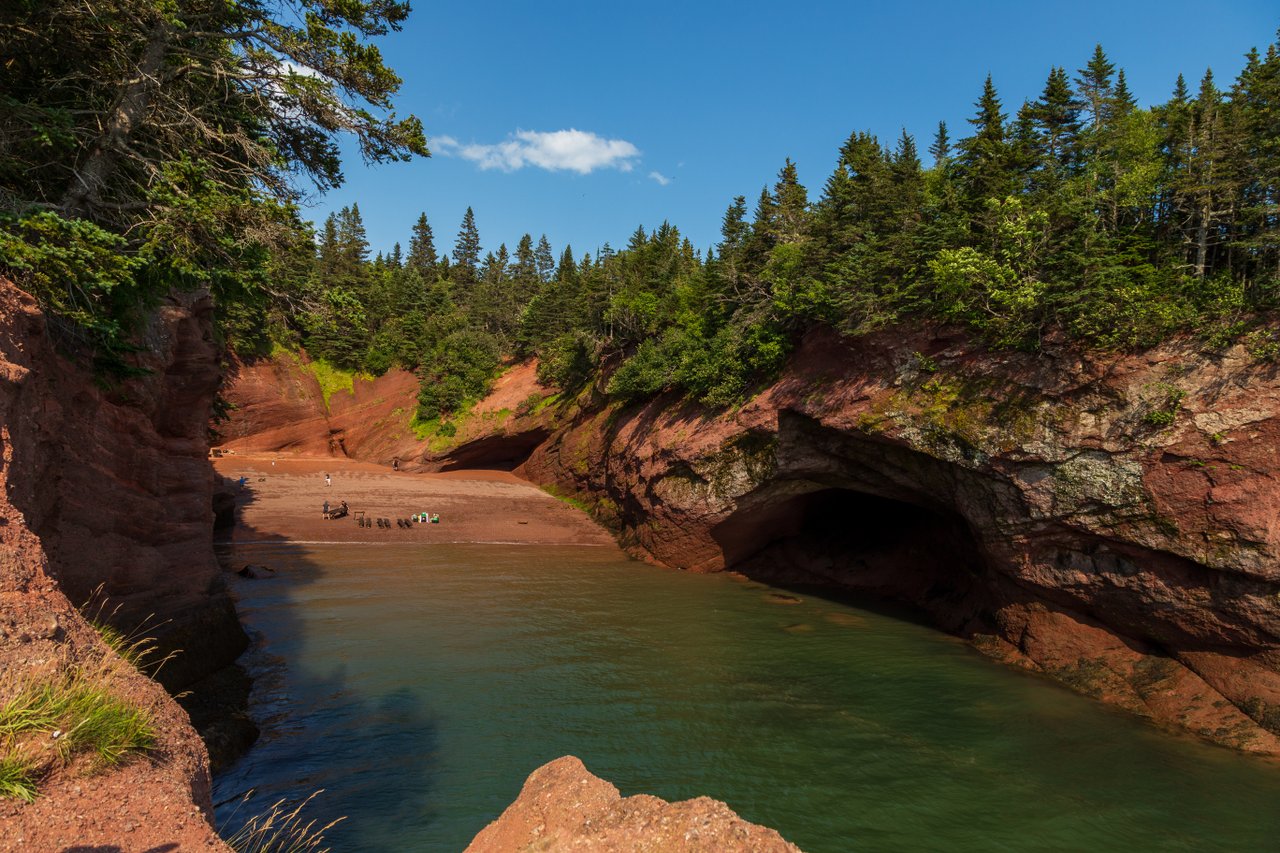 St Martins Sea Caves
Welcome to the last remnants of pure coastal wilderness on the east coast of North America. We invite you to visit our protected coastal splendor – from the sandstone sea caves, beautiful beaches, and forests to our close-knit community and its maritime heritage. The main attraction of the village is the sea caves of St. Martins. A favorite spot for nature lovers and spectators of the wonders of creation. The St. Martins Sea Caves are formed by the tidal cycle of the Bay of Fundy which has the highest tides in the world. At high tide, the caves are completely submerged in the clear blue waters of the bay. However, at low tide, the whole landscape turns into a beautiful geography with these magnificent caves and small streams that create an amazing place to walk on the seabed. In this situation, you are able to enter the caves and explore the fantastic caves from the inside out.
The shallow but extensive walls of the caves are stunning shades of red and water droplets drip down the walls. From inside the caves, the scenery of rocks and seabed outside is amazing. Just enjoy the attractive scenery around you by climbing the rocky cliffs. Located just off the coast of the Bay of Fundy, these caves offer a unique insight into the geological history of millions of years of erosion on the shores of St Martins as the tides rise and fall every 6 hours and 13 minutes. Tides can reach up to 38 feet off the coast of St. Martins. Remarkably, the water of all the rivers on earth flowing into all of the oceans is roughly equal to the amount of water flowing in and out of the Bay of Fundy in a single day. This wonderful place can be a great spot for a family trip as well as a place for an adventure with your friends.
The caves are open year-round, but the best time to visit is summer when the caves are easily accessible and hiking trails are not dangerous due to icy conditions. Even if you want to walk the seabed, you should check the tide tables before you set off. At this attractive and spectacular beach, you can enjoy delicious and fresh seafood in large restaurants overlooking the bay. If you come at high tide, you can follow the coastline and see lush forests and cliffs along the way.